News about HER LIMITLESS HER
"…a poet who deals in ecstatically charged invocations. She is at once a shaman expressionist, cultural historian and eco-defender…some (poems) read like read like lost epistles, spells and incantations, while others still are like transcripts to lyrical interrogations of time and memory, love and motherhood, towns and coasts, the tidelines of life and death."
-Michael Steven in Landfall
Hoopla Series from Makaro Press
"The bounty of women, how far they'll go, how far they can stretch – to love, to encompass, to bear. Find them here: bosom-packed, dreamy, dragging their offspring, twinsets askew, peeling, darning, preening. In Her Limitless Her Reihana Robinson has created a beguiling space for her to stretch on the page, and for joy to dance and grief to spin."
An invitation to read at the 2019 Auckland Writers and Readers Festival was extended to me by Vana Manasiadis as part of the event to launch her new book of poetry called The Grief Almanac: A Sequel.
---
What the stars say
I hear bird bones crack, splinter.
I hear offal slosh in a bucket.
Matariki have seen it all before —
my star companions remain silent.
Have they gone mad?
Yes, mad as a meat axe.
I hear gunshots at the growing wall,
I hear laughter at cocktail hour
out of mouths as wide as mako shark.
The bleached face of Sirius gives no
clue, all are catching a ferry to the Isle
of the Blessed.
My ageless self trapped in a maimai —
who knows how temporary?
It seems I am lasting forever, as long as
stories repeat.
I blush and quiver to see myself
related to this pale imitation of the gods.
What They Are Saying About AUĒ RONA: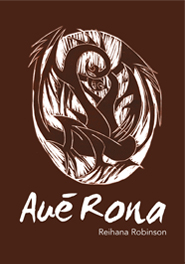 "…a vibrant and inventive first collection."
-Siobhan Harvey review on Beattie's Book Blog
"…a masterful reworking of myth"
-Saradha Koirala on Tim Jones Books blog
"Reihana's poetry is absolutely stunning. Her revolutionary voice has a magical, ethereal quality about it. I always want to read more."
-Anton Blank, Editor of Ora Nui, Maori Literary Journal
"Energetic, complex, filled with provocative imagery and luscious language." 
-Mai Review Journal
"I love the mythic, edgy vision of Reihana's poems."
-Joy Harjo, acclaimed Native American poet, musician and author. 
"In this compelling first collection, Reihana Robinson offers a nuanced re-imagining of the Maori Rona legend through lyrical poems of love, transgression and sorrow that flesh out and challenge the archetypal notion of the woman in the moon.  Here Rona's voice alternates between worry for her children's future in a contemporary New Zealand and an ecstatic appreciation for the ambiguous stroke of luck that elevated her from the life of an ordinary woman eking out a difficult living to the consort and lover of a celestial being."
-Janelle Elyse Kihlstrom, editor Melusine, or Woman in the 21st Century, an online journal of literature and art 
---
Praise for AUP New Poets 3: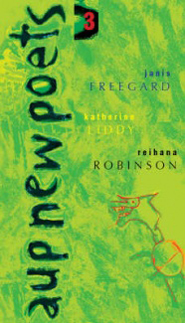 "With Reihana Robinson there is a delightful Pacific Island flavour. Done exquisitely though and not patronisingly. I liked 'Thinking of my Father' best, I think. There is an air of authority about the poems that is not too obtrusive. And the speculation about Thai restaurants, fine. And, 'Waiting for the Palagi' - forever? There is much here that is worthy of some careful reading; highly recommended." 
Trevor Reeves, Southern Ocean Review