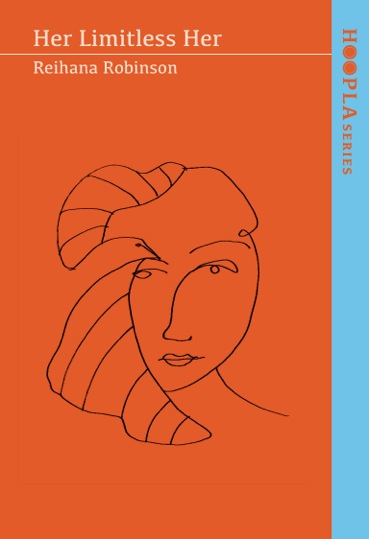 HER LIMITLESS HER
Available in all good bookstores in New Zealand
In Her Limitless Her we see the bounty of women, bosom-packed, dreamy, heretical, fecund, dragging their offspring, twinsets askew, peeling, darning, preening. How far they will go, how far they can stretch…"breathing as if it is the only thing she can do."
Spanning time and distance, crossing boundaries of culture and race, Reihana Robinson, in her second volume, plumbs the depths of love, anguish, memory and possibility.
---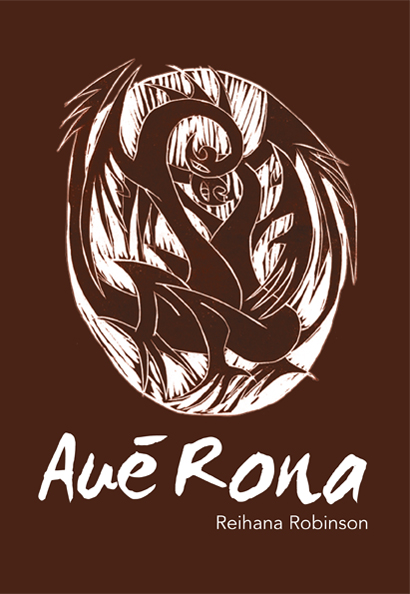 AUĒ RONA
Available from:
Amazon
Steele Roberts
"Auē Rona e," Rona cries out. In one swift move she is relocated to the moon. "Auē." Who is there to hear her cries? This was from before the time of aeroplanes and space shuttles. It is a kind of forced migration but no refuge, just a never-ending misplacement and longing to be reunited with her two brats. She is rooted against her will. An endless struggle.  An endless suffering. "Auē Rona e."
In my notes to this collection I write "the traditional story of Rona and the moon opens as she is collecting water for her children. A cloud covers the moon; she falls, spilling the water, and she curses. As punishment she is torn from earth and taken to the moon, still clutching her calabash and holding a ngaio tree.  Aue? Rona. Oh Rona. Oh grief. Oh sorrow."
Contact the Illustrator
Instagram
Reviews and Links
From Cha: An Asian Literary Journal:
"Reihana Robinson's 'After the Fall or the Power of Reading'" from A Cup of Fine Tea Read more...
"Poetry for Aotearoa: an extended book review" from the New Zealand Poetry Society Read more...
The Landfall reviews Aue Rona. Read more...
Steele Roberts published poet Saradha Koirala reviews the book launch. Read more...
Auckland University Press published poet Janis Freegard selects her Tuesday poem from Aue Rona. Read more...
Radio New Zealand interview with Arts on Sunday presenter, Lynn Freeman : Listen to podcast...
Read more reviews on the News and press page...
---
AUP NEW POETS 3
Available from:
Auckland University Press
Unity Books Online
Reihana's poetry collection Waiting for the Palagi was featured in this Auckland University Press publication together with New Zealand poets Janis Freegard and Katherine Liddy.
---
In this pioneering anthology, two leading Māori poets and scholars collect together many Māori poetic voices in English and let flow a wellspring of poetry.
From revered established writers as well as exciting new voices, the poems in Puna Wai Kōrero offer a broad picture of Māori poetry in English. The voices are many and diverse: confident, angry, traditional, respectful, experimental, despairing and full of hope, expressing a range of poetic techniques and the full scope of what it is to be Māori.
From Rangi Faith's 'Karakia to a silent island' to Ben Brown claiming back Baxter's 'Maori Jesus', Phil Kawana's 'Scenes from a council tenancy' and Reihana Robinson's rewrites of the Rona and the moon legend, Tuwhare's lines on a snail shell and Jacq Carter's lines on the Ōmaru River, there is much diversity in this kete. There are poems from all walks of life and using different modes of writing, laments for koro and hopes for mokopuna, celebrations of the land and anger at its abuse, retellings of myth and reclamations of history.
From the chanted songs and oratory of a traditional culture, to engagement with the English language in the nineteenth century, and on into the cultural revival of the late twentieth century, Māori have always been deeply engaged with poetic forms, and Puna Wai Kōrero showcases that deep whakapapa and celebrates its current strength.
---
THE KILLING NATION: New Zealand's State-Sponsored Addiction to Poison 1080
Available from:
Amazon
Carson's Bookshop Thames
Unity Bookshop Wellington
Paper Plus Whitianga
Living as I do for most of the year in a remote part of the Coromandel, Aotearoa New Zealand, I am involved with environmental research, in particular New Zealand's controversial use of aerial poisoning of wild animals. I work in organic farming and sustainable land use as well as a range of land issues at regional and local level.
The Killing Nation: New Zealand's State-Sponsored Addiction to Poison 1080 is the final part of a series exposing the urban/rural divide. At present this volume is available on Amazon and at select bookstores in NZ. The earlier volumes are in production and should be available as one book under the collective title Rural Revolt: In Defence of Coromandel's Wild Kingdom in 2019.